EDIT MAIN
Patriot Homecoming 2020
Monday, January 13 - Pajama Monday - Wear your favorite "dress code" pajamas!
Tuesday, January 14 - Time Travel Tuesday - Juniors and Seniors dress up like senior citizens, and freshmen and sophomores dress up like babies/children!
Wednesday, January 15 - Walt Disney Wednesday - Dress up like your favorite Disney character!
Thursday, January 16 - Throwback Thursday - 9th Grade-50s; 10th Grade-60s; 11th Grade-80s; 12th Grade-70s
Friday, January 17

First Place Friday - Students, dress up to match the theme of your class wall, as you compete for first place in the spirit competition!
10:25am - Homecoming Pep Rally, Student Union Gym
Noon-3pm - Patriot 5K Packet Pick-up, Student Union
5-8pm - Patriot 5K Packet Pick-up, Student Union
6:30pm - Talent Show, Student Union Gym (details below)

Saturday, January 18

8-8:45am - Patriot 5K Packet Pick-up, Student Union
9am - Patriot 5K Scholarship Run/Walk
11am - Tailgating

Alumni Tailgating, Student Union Side Lot
Tailgating Policies (see below for more information)

12pm - JV Boys v. Charlotte Christian
1:30pm - Varsity Girls v. Charlotte Christian
3pm - Varsity Boys v. Charlotte Christian
3:30pm (Halftime) - Homecoming Court Presentation
Tailgating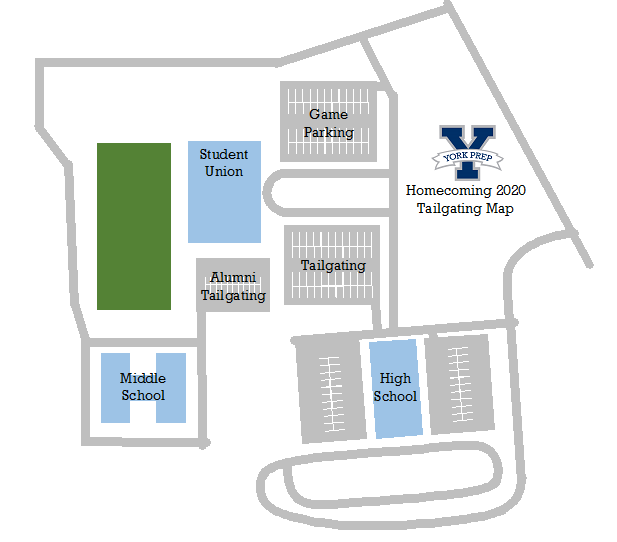 Tailgating will be allowed in the Student Union Side Lot and the High School Supplementary Student Lot (see map)
Tailgating set-up may begin as early as 10:30am
Alcoholic beverages are prohibited
Glass containers are prohibited
All trash must be properly disposed of
All tailgating should be completely cleaned up by 3pm
Homecoming Talent Show
The Homecoming Talent Show is hosted by the YPA Beta Club and will take place on Friday, January 17, in the High School Commons. Auditions will be held in Mr. Patterson's room (Student Union 229), as follows:
Middle School Students - January 6 and 7, 3:30pm
High School Students - January 13 and 14, 3:30pm
Students interested in auditioning should plan a 1-2 minute performance and be prepared to supply their own materials, such as music. Additionally, any music lyrics must be clean and school-appropriate.